I'm writing this after getting back from the most incredible week of my life, Monterey Car Week 2017.
I could really get into how insane and awe-inspiring that week was and what it means to car enthusiasts, but that's another article for another time.
Today we're taking a look at the brilliant Alfa Romeo Stelvio.  The new SUV from the Italians and an entry into the SUV market that seems to be infinitely growing.
Some Alfa History:
This is something that I wish I learned about sooner.  Alfa Romeo is a legendary company with a rich history of victory and deep roots.  Yes they've had a long running history of breaking down and catching fire when you don't really want them too, but there are plenty of good things to (kind of) make up for that.  I think.
Alfa Romeo started in 1910 with the name Società Anonima Italiana Darracq (SAID) by a French automobile firm with Italian investors.
Alfa's original home was in Napoli and was moved to Milan in its early years.
Ever since those very early days, Alfa Romeo has been involved in automobile racing, which is a history I feel we can all respect.
Since the First World War started, Alfa halted automobile production and course made military vehicles for the Allies.  During these sort of times a lot of automotive manufactures move into military productions.
After the war, A.L.F.A (at the time) went back to making automobiles, with the Torpedo 20-30 HP to be the first.
Things get interesting here where in 1920 Alfa Romeo won at Mugello with Giuseppe Campari and continued with a second place win with the great Enzo Ferrari at the wheel.  Crazy how history works, isn't it?
Crunched down, Alfa Romeo had great successes especially with Enzo at the wheel and as a race team manager eventually.  This was the birth of Scuderia Ferrari.
During the Second World War, Alfa Romeo was essentially controlled by the state and built special cars for the wealthy with designs from Touring Milan and Pinin Farina.
After the war, Alfa Romeo joined the freshly formed Formula One racing, and won the first official world championship race in 1950.  Incredible.
Even after some impressive racing stories and pedigree, Alfa has obviously had its slew of bad luck and pretty famous quality issues.
In the 1970's, Alfa Romeo got into financial trouble and was aided by the state to get back on its feet.   During that time, they tried to creatively partner with Nissan but it failed miserably.
Eventually, the company was bought by Fiat after Ford wasn't able to match the deal Alfa got.
Now we come to current times.  Alfa Romeo has returned to American soil in a great way with the impressive 4C (which is on my wishlist), the Stelvio and the Giulia. And previously the awesome 8C.
Alfa Romeo offers a premium line up now and has full intentions of being a premium brand.
Usually these sort of returns to market don't yield great numbers or even great cars.  But Alfa has done a fantastic job.
The Specs-Alfa Romeo Stelvio:
| | |
| --- | --- |
| Vehicle Type: | Midsize SUV |
| Power Plant: | 2.0 T 4-cyl / 2.9 L TT V6 |
| Gearbox: | 8-speed automatic |
| Power: | 280-505 HP |
| MPG: | Up to 28 Highway/22 City  |
| Torque: | 306 Lb-ft – 480 lb-ft. |
| Length: | 184.5 Inches |
| Width: | 74.9 Inches |
| Height: | 64.9 Inches |
| Wheelbase: | 110.9 Inches |
| Top Speed: | 144 MPH – 177 MPH |
| Seating: | 5 Adults |
| 0-60 MPH (0-120 KPH): | 5.5 Seconds – 3.8 Seconds |
| Base Price: | $38,000 – $75,000 (est). |
Continued:
The Stelvio is the result of Alfa Romeo making an obvious attempt at increasing sales. Everyone and their mother is buying an SUV these days, and they even make up over 50% of Porsche's sales.
So Alfa Romeo jumped on the train to increase sales numbers this year and it seems to be working.  The new big Afla is based directly on the outstanding Giulia platform, and the design makes sure you know that.
The Exterior-Alfa Romeo Stevlio:
The exterior styling of any Alfa Romeo is pretty distinguishable from anything else on the road from one strong characteristic.  The grille.
The famous Alfa Romeo grille up front stands true to the history of the brand (oddly on an SUV) and there are plenty of elements from the Giulia from which it's based.
Stelvios face is a softened version of Giulias, with slightly bigger proportions and lighter lines.  The overall look works well on Stelvio though.
The QV version of Stelvio adds air splitters that make the car look more aggressive, naturally.  Along with some heat sinks on top of the hood like we see on Giulia QV.
From the side, Stelvio is a sloped and circular looking SUV.  The front end is elongated and looks lovely.
In any trim, Stelvio features an athletic stance and great side profile.
On the rear end Stelvio has more similarities to Giulia with the shaping of the tail lights and lower bumper assembly.  In QV form, you get the treatment of quad pipes and an aggressive diffusor.  Largely the same car as Giulia, but bigger.
I'm not crazy about the fact that Alfa Romeo made an SUV, just like I'm not crazy that Ferrari is planning on making one.  Given the history of this brand it just doesn't make sense to me that Alfa would make a practical family cruiser (disregard the 505 HP one) when their history is in F1 and Grand Prix racing.
Stelvio looks great, but Alfa Romeo and SUV doesn't really have a good taste in my mouth.  Kind of like pineapple on pizza.  It's not for everyone but for some reason people like it…and eat it.
I don't like pineapple on my pizza by the way.
The Interior-Alfa Romeo Stelvio: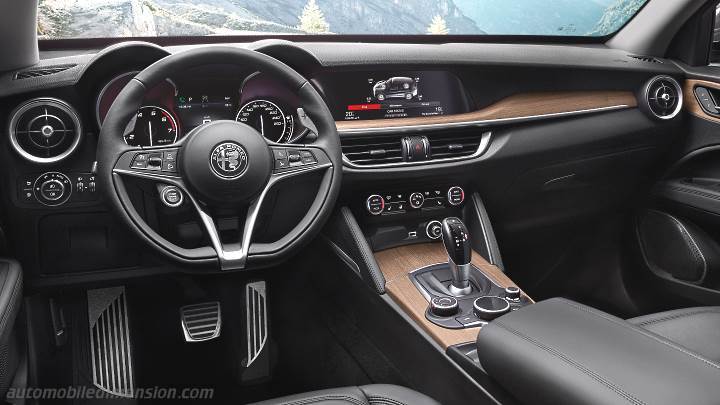 There seems to be a theme developing here, since the Alfa Romeo Stevlio looks pretty identical to Giulia on the inside as well.
With the standard car or the Alfa Romeo Stelvio Quadrifolgio, you get a similar layout with the large and stylish infotainment screen in the middle of the dashboard.  There are some proportions that are different and offer a taller look, but the same scheme is at play.
That means that Stelvio has all the easy to use and understand controls that Giulia does, and the layout is easy to understand and isn't overwhelming to look at.  Very nice.
That also means that the SUVs interior seems a bit needlessly sporty (outside of QV trim) and offers big paddle shifters on the steering column that seem much more at home on Giulia.
I would really redesign a more conservative looking steering wheel to round things out, as the Giulia wheel just doesn't seem like a good fit here.
The overall interior is very nice.  Alfa Romeo did a great job entering the market with an intuitive yet lovely and stylish design that just works.  That is a tough cookie to crack.
The Quadrifoglio trim offers plenty of carbon fiber (as you could have guessed) to the inside of Stelvio.  Something almost every performance trim level does in cars today.  Not a bad thing, just getting to predictable levels.
Alfa Romeo did a great job with the interior of Stelvio, however I think it makes a lot more sense on Giulia.
The Performance-Alfa Romeo Stelvio:
Stelvio comes standard with a 2.0L turbo four cylinder engine that produces a pretty impressive 280 horsepower and 306 pound feet of torque.
Since it's based on Giulia, you get rear wheel drive standard and all wheel drive as an option.
This engine and platform are fantastic.  Honestly.  The chassis is very communicative, steering is sharp and the engine has plenty of power.
Stelvio in its standard variant will do 0-60 in about 5.5 seconds which is impressive enough.  Top speed is rated at 144 miles per hour in the standard car.
For European models, there is also a diesel option in the form of a 2.2 L turbo four cylinder diesel.
Then of course we have the Alfa Romeo Quadrifoglio with a 2.9 L twin turbocharged V6 engine which is a smaller version of the V8 Ferrari uses in the California T and 488 GTB to name a couple.
This monster of an SUV is packed with a crazy 505 horse power and will do 0-60 miles per hour in less than four seconds.  Unheard of.
Whether you actually will ever use that kind of power and speed is completely up to you, but I still don't get high-power SUV's.
Anyway, Stelvio gives you plenty of performance and style.  I sound like a commercial but the SUV is pretty great.
You can comfortably fit five people inside Stelvio and have plenty of room in the trunk for things you might need.  The rear seats can be folded down for added practicality, which is always nice.
Sum It Up:
Stelvio is a lovely looking and sporty SUV, but it just doesn't feel right.  It's a clear grab at market share in a (dare I say) easy market to break into.
I don't think Alfa needs an SUV to be Alfa, but I can't really blame them.  I always remember that it's not what the business likes, it's what the customer likes.  And in this case, it's SUV's from sports car companies.  What a world…
The price points on the Alfa Romeo Stelvio start around $40,000 and can hike up to near or above $80,000 for the Quadrifoglio trim.
I'm not crazy about Stelvio like I am for Giuila, but I have to admit Alfa Romeo did a great job.  I just hope it doesn't catch fire much.
Comments
comments