Aston Martin is absolutely blowing my mind.  Have you guys seen the Valkyrie? Have you seen Aston's new AMR project? The Brits are truly blowing the lid off of what we've ever thought of them.  Plus, news is that the Valkyrie is the beginning of DNA for mid engine super cars from Aston Martin.  You read that correctly.   Aston no longer wants to just offer incredibly lovely GT cars, they want to build super cars, hyper cars, race cars and SUV's.  Ticks off nearly every box.  Not to mention, Aston is the best at naming cars.  They have the Vantage, the Vanquish, Vulcan, Valkyrie and Rapide.  Naming a car something as cool as "Valkyrie" truly takes a talent.
Today, we're looking into a somewhat familiar face, the 2018 Aston Martin Vantage.   This is a car that hasn't been redesigned in years, but is still gorgeous (akin to the Maserati GranTurismo).  It's a classic formula of a big V8 up front and the sexiest lines known to man.  The Vantage has aged very well for the 10+ years it's been in production, and I don't know of anyone who doesn't like it.  On top of the Vantages amazing looks, is its sound.  Hardly anything on earth sounds better than a naturally aspirated V8 (that "hardly anything" goes to Ferrari V12's and Pagani Zonda's).
For 2018, the Vantage is getting an update like the DB11 which is a very good thing.  Aston Martin is headed in a very new direction, so will the new Vantage be as timeless as the one leaving showrooms for good?
The Exterior: 
It is very hard to tell from this spy shot, but the new 2018 Aston Martin Vantage will be one of the most beautiful cars on the road.  There are a few apparent differences from the old to new model, and one has to be this cars stance.  It looks lower and more athletic than the previous generation, which is a change Bentley seems to be taking up with the Continental as well.  The rear end of the car seems to be shortened, while the front end looks long as ever.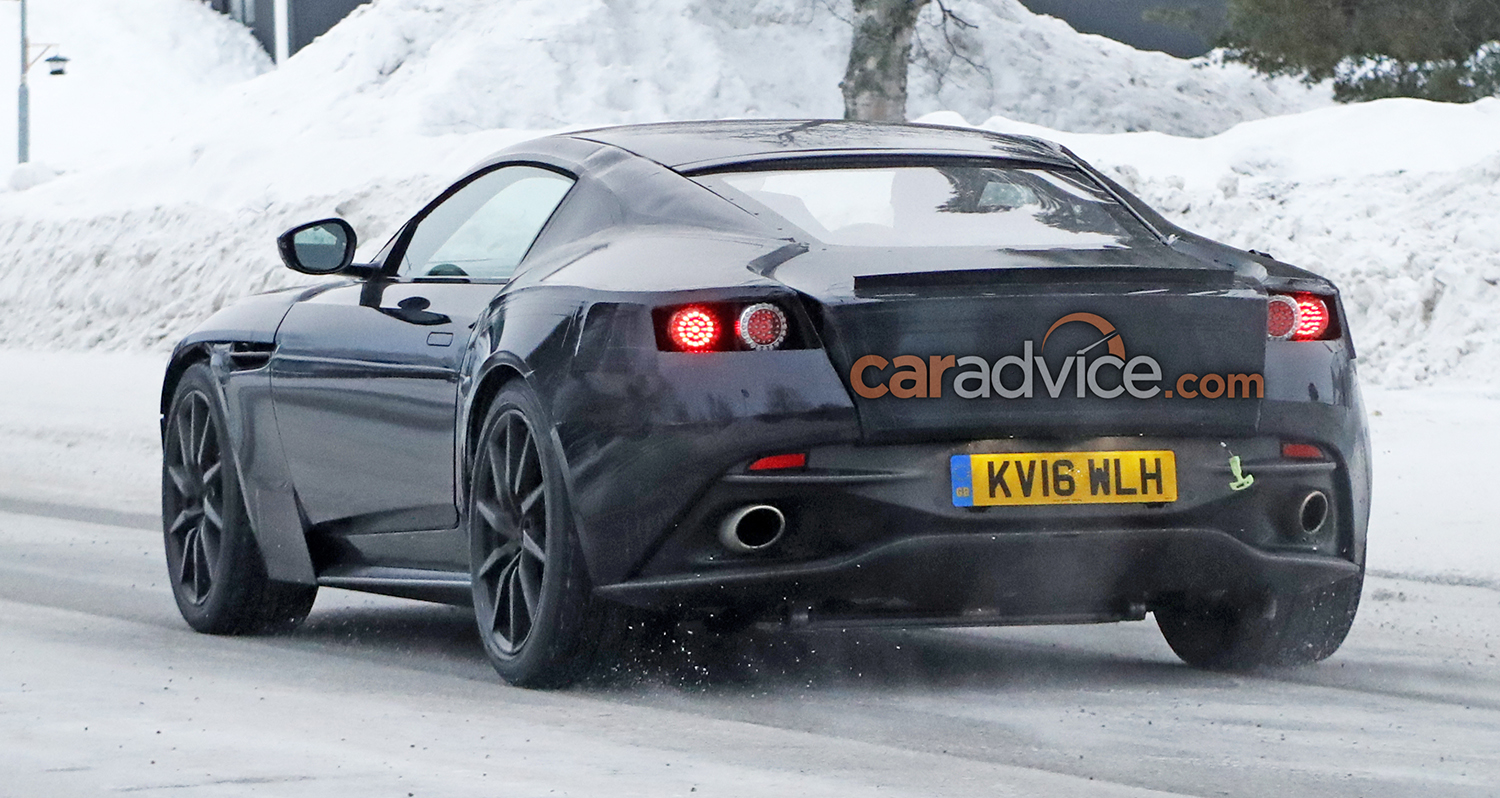 Now the rear isn't quite production ready.  You notice a strong similarity between this 2018 Aston Martin Vantage and the DB11.  Even the rear diffusor looks like it is straight from the DB11.  But as it turns out, the DB11 and Vantage will only share door handles.  This is a good thing, because those door handles are awesome.
The tail lights still need to be finalized on the test mule, but I think it is worth the patient wait.  You can also tell that bthe 2018 Aston Martin Vantage will feature the retractable wing like the DBB11.  According to Aston's design chief, the Vantage will "Blow the DB10 Away".  Now that is something I love to hear.  Aston Martin is famous for making breath taking vehicles, so I'm really looking forward to this final product.
The Interior:
The old Vantage's interior is pretty outdated.  The technology (especially the infotainment screen) screams 2007.  With that being said, we see a much better and more intuitive system in the DB11.  While technology is getting more outdated every single day in today's world, I do hope that Aston brings out the big guns (or screens) for the Vantage's interior.
Now I know what you see above is clearly the DB11's interior (hint: the infortainment screen) but there are a few things we can predict, given what we see here.  For example, Aston Martin has their trademark rotating screen for the infotainment we should see in the Vantage.  The steering wheel in the DB11 should make some sort of version available for the Vantage as well.  I would be surprised if Aston Martin takes a different route in terms of their overall set up for the dashboard, but I can't see that happening.  The layout is pretty embedded into their DNA, and it looks fantastic.
The Performance:
Aston Martin Vantage's aren't the highest performing car on the market, which is unfortunate.  Over the years while other manufactures kept evolving their performance cars, the Vantage has been left behind.  Zero to sixty times for the Vantage through the years ranged from upwards of five seconds down to 3.9 seconds for the V12 S.  It might not instantly sound like it, but that is pretty sluggish for its price point and over all stature as a car.  My 328i is able to do 0-60 in 5.6 seconds, which is only .6 – 1.4 seconds off of an Aston Martin Vantage and I have a four cylinder?  It is definitely time for an upgrade.
The power plant of the Vantage will be very interesting.  How does a Mercedes-AMG 4.0 L twin turbo V8 sound?  This seems to be a new theme for Aston, using other manufactures engines for their cars like in the Valkyrie; which will use a Cosworth V12.  We're looking for a number around 500-550 horsepower for the V8 Vantage, and the DB11's V12 for the V12 Vantage.
Expect the Vantage to use a 6-speed manual or 8-speed automatic with a dual-clutch system.
2018 Aston Martin Vantage – Specs:
| | |
| --- | --- |
| Vehicle Type: | GT Coupe |
| Power Plant: | 4.0 L TT V8  (Est) |
| Gearbox: | 6-speed manual , 8-speed automatic (est.) |
| Power: | 500 – 550 HP (est.) |
| MPG: | 21 Highway, 14 City (est.) |
| Torque: | 480 – 540 Lb-Ft. (est.) |
| Length: | 173 Inches (4.39 Meters) (est.) |
| Width: | 73 Inches (1.85 Meters) (est.) |
| Height: | 50 Inches (1.27 Meters) (est.) |
| Wheelbase: | 102.5 Inches (2.62 Meters) (est.) |
| Top Speed: | 200 MPH (321.8 KPH) (est.) |
| Seating: | 2+2 or 5 |
| 0-60 MPH (0-120 KPH): | 3.9 Sec. – 3.4 (est.) |
| Base Price: | $180,000 (est.) |
Sum It Up:
In conclusion, I am overly excited for the new 2018 Aston Martin Vantage.  Because of Aston Martins history of making absolutely stunning and incredible cars, we have reason to believe this car will be special.  As long as Aston can fix the sluggish problem (which I'm sure will be mended), the new Vantage will be the car it was meant to be.  We can expect a release date of the 2018 Vantage in late 2017.
Comments
comments