The automotive world is evolving and we're seeing more and more from manufactures to reflect this evolution.
From Tesla to Ford, we're seeing a bunch of OEM's create more advanced hybrid technology, electric vehicles and even autonomous technology.
Hyundai has seen some considerable growth in the past few years and has been really keen on redesigning their cars into a more sophisticated and professional looking silhouette.  Looking at the new Elantra, Optima and the other Hyundai vehicles compared to previous generations, this is apparent.
Hyundai has spent a lot of time and energy (and consequently money) on advertising and developing their latest hybrid offering, called the 2017 Hyundai Ioniq.  As with most new hybrid releases, Hyundai claims the Ioniq is the "Most fuel efficient car in America".
That statement is naturally followed by an asterisk.    Because hardly anyone will drive light enough to get the MPG figures they claim.  But you should expect that by now.
The 2017 Hyundai Ioniq is a good looking hybrid.  Hybrids are a thing that Hyundai has been fiddling with for some years now, and it's good to see that the brand is dedicating a model to the pursuit of electric and gasoline powered cars.
Another steep claim Hyundai makes with the 2017 Ioniq is the total range on the car is a whopping 690 miles.  Again, followed by an asterisk.
Hyundai makes not only promises of fantastic fuel efficiency, but they call the driving experience in the Ioniq "rewarding".  That's always been the great disconnect of modern cars.  Hybrids and the driving experience.
The Specs-2017 Hyundai Ioniq:
| | |
| --- | --- |
| Vehicle Type: | Hatchback |
| Power Plant: |  3-cyl / electric motor |
| Gearbox | 6 speed auto |
| Power: | 139 HP |
| MPG: | Up to 59 Highway/39 City (Eco) |
| Torque: | 216 lb-ft. |
| Length: | 176 Inches |
| Width: | 71.7 Inches |
| Height: | 56.9 Inches |
| Wheelbase: | 106.3 Inches |
| Top Speed: | Not Available |
| Seating: | 5 Adults |
| 0-60 MPH (0-120 KPH): | Not Available |
| Base Price: | $22,200 (est). |
The Exterior-2017 Hyundai Ioniq:
Hyundai's design team has been hard at work with redesigning and recreating the whole Hyundai line up.
Hyundai's have been bug-eyed odd looking things for years and struggled to be really taken seriously.  In recent years, the Asian automaker redesigned the Optima, Elantra and other models.
Now the 2017 Hyundai Ioniq is dawning all of the most recent design language for the brand.
The front end has a large grille that is connected to the slender head lights, and there are some cool cut-outs of the bumper for the LED lighting.  This new Ioniq has a lot of the new Elantra in it, but the front of the Ioniq has a bit more of a hybrid look to it.
Hyundai's new Ioniq has an interesting body line.  The reletively short wheelbase would usually mean the sedan/hatch back would look stubby like all other hybrids, but this is not the case.
The Ioniq is sculpted very smoothly.  The hybrid is technically a hatchback, but the sloping roof line adds a more slimmed-down look.  Essentially, the 2017 Hyundai Ioniq is a combo between a sedan and hatch back; A bit more bubbly than a "fastback" design.
From the rear, you can see that the design is a bit more raised than a conventional sedan.  The hatchback gate lifts up to expose a very large opening into the trunk when compared to other vehicles in its class.
There is almost a Honda CRZ element to the rear tail lights and rear end shape, but the Ioniq seems a bit taller and more practical in the back.
The Interior-2017 Hyundai Ioniq: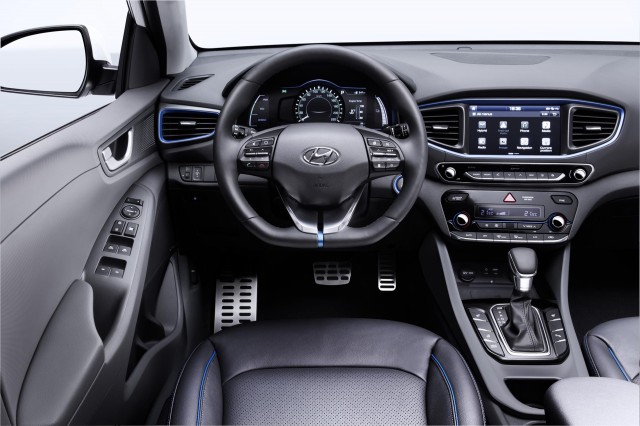 The interior of the 2017 Hyundai Ioniq is another place where Hyundai is pushing a "driver's car" appeal.
Pointing to the bolstered steering wheel, driving modes and whatnot and that is all fine and good.
From a strictly design standpoint, the 2017 Hyundai Ioniq's interior does look pretty good.  You can't expect too much out of a car you can get a lease deal for under $220 a month, but the Ioniq makes great use with what it has.
I do have to agree with Hyundai's marketing team on the steering wheel.  The bolstering looks great, and a thick wheel always feels great from a driving perspective.
The dashboard is very intelligently laid out, and doesn't really try to be anything it's not.  We see a lot of over-the-top designs from other hybrids on the market, and it is nice to see one that is more of a normal car interior.
The gauge cluster is fully digital (in some cases), which is also popular in other hybrids.
Hyundai also gives you all sorts of tech goodies standard for the 2017 Hyundai Ioniq.  These include standard dual-zone climate, standard Apple Carplay & Andriod Auto, optional pedestrian detection, leather seating and dynamic lighting.  Very good amount of options for a car that starts at $22,000.
The Performance-2017 Hyundai Ioniq:
As I said before, Hyundai promises some seemingly crazy fuel economy for the 2017 Hyundai Ioniq.  We're talking 58 combined MPG, and 690 miles of range.  This coupled with a claimed good driving experience is something to take note of. 
While we have to wait until we drive the new Ioniq to see what it is all about, we can predict that the fuel economy numbers will be difficult to reach.  Under normal driving conditions coupled with periodic passing and slightly more-than-normal acceleration, 58 MPG will be hard to achieve.
These numbers are possible though.  And if they aren't possible, you can get close.  Technology is fast advancing and hybrids are now more capable than ever.
The 2017 Hyundai Ioniq has Eco and Sport driving modes that effect steering and throttle response.
 Sum It Up:
The 2017 Hyundai Ioniq looks to be a great hybrid.  Blending astounding fuel efficiency and driving pleasure is a steep hill, but the Hyundai may actually be able to pull it off.
Lease deals are out now, and the release date for the 2017 Hyundai Ioniq has passed as well.
Comments
comments